I have a lot of rooms (about 10 rooms for each Act) There will be around 40 in total. I need to be able to switch really quick to test them. It's a typical smorgasbord of buttons to do just that. Such a 'switch' screen will not be in the game because that would break the immersion of the game.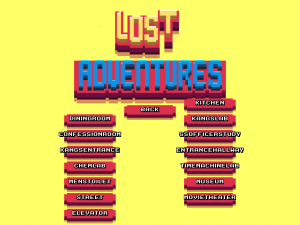 I really wanted to make this 'real' transition room quickly, because it can be part of the game. It is a shown in a special way because it is projected from the side completely. The only thing Dave can do is press the buttons. Depending on the floor the speed of the transition is faster when the floor destination is farther from the current floor. Lang's building is very futuristic, so such a turbo lift could be expected. The elevator is what I expected too be, I had made the art in pieces long before I made the movement so It was really coding all the movement. A lua script is driving the animation as all the other rooms.
Still, this is all not set in stone because I am not convinced the player should see the buttons all the time. I could centre the buttons when the player activates the panel and show some stuff buried in the concrete. The elevator created a new puzzle for the adventure, getting an elevator pass… 
The elevator above is an animated gif so click the preview thumbnail to look at it. It's quite hypnotic…!