The last couple of months of 2019 I did some serious woodworking. And I must say that I am very pleased with how my creation looks like.
It's what people call a bartop arcade cabinet. Well I could tell you all about but some pictures say more than a thousand words, so here it is!
I made this with the help of this youtube video.
To prove I actually made this… Some screens of the process ! The controls are REAL happ controls imported from America (about 10 years ago!) So finally made this! Yeah!
Well I've played some serious old school games and it was heaps of fun I will tell you!. So why don't you make your own?
But what if you could make your own game and play it on a cabinet like this. That really tops releasing a game on mobile platforms. But what game could you make that uses that many buttons?
Well I haven chosen a defender like game without the quirks of the original Defender. And the name I have chosen is (again) Psirens!
Wanna see some early screenshot? Yeah Ok!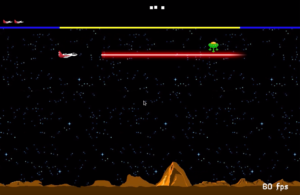 Well the basics are done and it used real Box2D physics (never did this before) and the framework is Libgdx. The acceleration was the hardest part and I was really happy how that worked out. Now I have to make the gameplay with the help of Libgdx AI extensions. And the scoringsystem… And more levels… And I have to map the controls…. Do I even have the time for this? Releasedate 2036? I really don't know…. But as long as it's fun. Next post I will upload some video in youtube and show that in a post!